Let's talk about life
There's a lot going on with us here at Freedom Life Grace Church. We can't fit everything into a service or Bible Study so we have made this blog available to you as a resource, inspiration, and amusement.
Enjoy! Share! Repeat!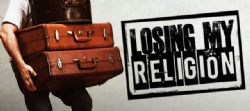 Will Rucker • General
One of my greatest frustrations with Christianity is its belief that Jesus is only found in it - that Jesus is somehow limited to revealing Himself only to those of a particular brand of faith. The truth of the matter is God is not a Christian and neither is Jesus. One of the most polarizing words in the world is Jesus, with Christian being a close second. Whether you are a Mormon, Catholic, or Protestant, Jesus is a big deal to your faith. I really find it interesting that Jesus is also a big deal in the Jewish faith, and Islam, too. So what is the problem?  

The problem with believing Jesus is a Christian, or more broadly, to follow Jesus one must call him or herself a Christian, is that it simply isn't true.