Let's talk about life
There's a lot going on with us here at Freedom Life Grace Church. We can't fit everything into a service or Bible Study so we have made this blog available to you as a resource, inspiration, and amusement.
Enjoy! Share! Repeat!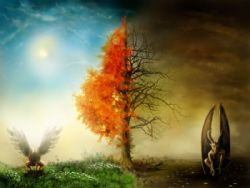 Will Rucker • Sin
Was the tree of the knowledge of good and evil actually two separate trees? Did it have two types of fruit? Genesis 2:16-17 records, "And the Lord God commanded the man, "You are free to eat from any tree in the garden; but you must not eat from the tree of the knowledge of good and evil, for when you eat from it you will certainly die." From this passage the answer to my first question is apparently there is only one tree. It also doesn't record multiple fruits on the one tree. It's not like these modern trees that grow all types of different fruits from one plant.