Recently, a Facebook friend posted an old clip from prominent megachurch pastor Creflo Dollar preaching about money. Even though the short clip was more than a decade old, it got a lot of responses– passionate reactions. I shared my thoughts on the clip and answered a few questions posed within the thread but quickly realized that this subject if far too complex for the short replies I was able to provide within the thread typing on my cell phone at red lights.
I have not written about tithing outside of my books so I am seizing this opportunity. It happens to complement the current Sunday morning teaching series, Managing the Family Business, nice as well. So here it goes, my brief thoughts on *drumroll please* tithing.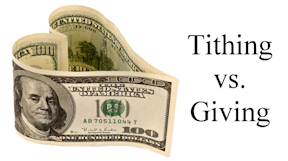 As the article title clearly states, tithing is not giving. Now, let's clear up what these terms mean. First, a tithe is simply one tenth of something. That's it. Nothing more, nothing less. So if you ever hear someone say "I tithed fifty percent this week!" know that they are using that word incorrectly. What they mean is that they gave fifty percent or five tithes. Biblically speaking, tithing was not freewill giving for the people of Israel. Tithing was obligatory. (Read the end of the article to understand who was obligated to tithe. *Hint* It's not you.)
If something is obligatory it is by definition, not giving nor is it a gift; it is a payment. This is why you hear the phrase "I paid my tithes." Just as no one "gives" their taxes, no one "gives" their tithes. Giving is the freewill transfer of something, yet tithing is not freewill, it is a mandate or law.
So what does the Bible say about tithing? Could the Israelites tithe of their time and talents? If they sang in the choir, did God count that is their tithe? What exactly is tithing from a Biblical perspective? To answer these questions we need to look at the text where it is clearly spelled out: Deuteronomy.
Before we look at Deuteronomy, we need to know what we are reading. First, let's be crystal clear that it was not written with 21st century American Christians in mind. Christians are under know heavenly obligation to follow the rules of Deuteronomy any more than Americans are obligated to pay taxes to Russia. Of course, there are principles that may be applied universally, however, that does not mean that the principle is to be followed because it is in the book.
The name Deuteronomy means "second law" and is attributed to Moses giving the Israelites God's expectations of them for the second time. It was written sometime around 1400 B.C. and is both a narrative history and law book. The writing was intended for the people of Israel at that time and must be understood in light of its historical, cultural, and geographical context.
Now, let's look at Deuteronomy 14:22-29 where instruction about the tithe is given. (I have created an abridged version and included a few notes and placed emphasis on certain words for clarity.)
You must set aside a tithe of your CROPS—one-tenth of all the crops you harvest each year. Bring this tithe to the designated place of worship and EAT IT there in his presence. This applies to your tithes of grain, new wine, olive oil, and the firstborn males of your flocks and herds. [Notice money and service are not mentioned.] Doing this will teach you always to fear the LORD your God. Now IF the place is too far for you to bring the tithe. You may SELL THE TITHE, put the MONEY in a pouch, and go to the place God has chosen. When you arrive, you may use the money to BUY any kind of FOOD you want—cattle, sheep, goats, wine, or other alcoholic drink. Then FEAST there in the presence of the LORD your God and celebrate with your household.

Every third year give it to the Levites, who received no land [therefore no crops] among you, as well as to the foreigners living among you, the orphans, and the widows in your towns, so they can EAT and be satisfied.
Deuteronomy 14:22-26, 29 NLT, abridged, emphasis mine
Have you ever heard a preacher use that passage before collecting the offering? Probably not. Did you notice that the tithe was not money? It's not that money didn't exist at the time, because it did. That's why the instruction was to turn the tithe into money if traveling with it was too burdensome. It's not that their culture didn't use money or pay people. The tithing given in the law was not a monetary exchange. It should be abundantly clear that the people could have tithed money, but that's not what was required.
Secondly, did you catch the word "feast" in that passage? The people were required to eat their own tithes and to celebrate. Whoa! Further, if they had converted the tithe into money, they could then buy whatever they liked, including alcohol, and have a party! Then stipulation was that it had to be done as a celebration. They couldn't use their tithes to buy equipment for work, they had to enjoy it. The tithe was like a built in vacation fund. Clearly, this is not what you hear on Christian television today.
There is much more that could be said about this. I am also aware that those that hold to tithing will point to other passages as a first or primary tithe, and consider Deuteronomy a second tithe. In nearly every instance of its mention, the tithe is nestled closely to the word "eat." Whether it was food for the priest, or the people, tithing was always edible. Even when Jesus mentioned tithing it was food. The distinction in scripture is clear.
The last idea I would like to offer is that tithing is not a mandate for Christians. Paul wrote two thirds of the New Testament and never instructed a single person to tithe. The letters he wrote are the closest texts in the Bible to "rules" for Christian living and he neglected to include tithing. How strange, right?
The letters he wrote for intended for the particular audience he was addressing. We were not in mind when he penned what we now regard are Scripture. While we can learn from his writings and benefit greatly from his wisdom, even the writings of Paul are not obligatory for us as law. Just as I could likely learn much from an email written by TD Jakes to his leadership team, I am not obligated to obey his demands. For example, Bishop Jakes may specify "All ministers are to sit in the second row on the left of the auditorium" in his email. Does this mean that all ministers everywhere are to sit in the second row on the left? Of course not. However, there is wisdom in having the minsters seated in a particular area and the second row on the left may work well for many churches.
Tithing a preached today is often in direct contradiction to the wisdom of the Apostle Paul. As you consider giving (and you should give) remember these words:
"Whoever sows sparingly will also reap sparingly, and whoever sows generously will also reap generously. Each of you should give what you have decided in your heart to give, not reluctantly or under compulsion, for God loves a cheerful giver. And God is able to bless you abundantly, so that in all things at all times, having all that you need, you will abound in every good work." 2 Corinthians 9:6-8 (NIV)
Does tithing make more sense now? Do you think I got it right or am I completely off base? Let me know your thoughts in the comment section. Share this with anyone you know who may feel obligated to tithe and help them get free.