What do you believe? About yourself? About God? About humanity? You've probably heard the quote, "Your beliefs become your thoughts. Your thoughts become your words. Your words become your actions…" Belief is an important thing. Life starts and stops, and is sustained or suspended with and by what you believe. How you experience life is formed by what you believe. So, I ask again, "What do you believe?" Now ask yourself, "Why you believe it?" How do your beliefs add to or subtract from the quality of your life?
The question is not "What do you want to believe?" or "What do you hope to believe?", but simply "What do you believe?" The authentic answer to this question can be found by tracing the consistent actions in your life. Here's where it gets tricky. Your beliefs dictate your actions while your actions influence and even create your emotions. In turn, your emotions contribute to your beliefs. Not all beliefs are based on truth; sometimes we choose to believe something based on how it makes us feel - or the potential feeling it could create.
"Religion uses fear as a way to control people."
In order to overcome fear, we have to gain new information. When we acknowledge this for what it is, we can find freedom. Religion teaches that God blessed those who do what that religion says. Whether it is virgins in heaven, a mansion, or simply the chance to have the next life be a better life, religion controls people through fear. The fear of losing a reward is often as powerful as the fear of punishment. It's not limited to one belief system, Christians aren't the only ones "a hopin' and a prayin'" for heaven. In a sense, even atheist are motivated by fear.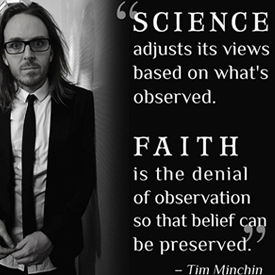 Most religious systems have the idea of karma built in. It's believed that you get back what you put out into the world. Christians call the idea sowing and reaping, or seedtime and harvest. It's one of the biggest moneymakers, particularly in the Word of Faith and prosperity gospel brands of Christianity. They make millions by preaching to desperate people in real need that if they simply sow a seed (always money into their ministry) then God will supernaturally give them a harvest in return. People have literally died waiting on a return that never came.
I'm not being hard on this idea. Okay, maybe I am, but it's because I used to believe it. After all, it seemed to be observable. It made a lot of sense. There were many people who would tell testimonies about how when they began to tithe, God blessed them financially. Or when they began to serve in the children's church, they got a promotion on their job. It was convincing and compelling.
Now, I don't believe in sowing and reaping unless we are talking about seeds in the ground. What I do believe is that the choices we make have consequences. I believe in cause and effect. I believe that the universe responds to what you expect.
I have found God to be extremely fair. What He does for one He does for all. Karma, sowing and reaping, do not respond the same to everyone. It seems that often those who are the most criminal reap the greatest rewards.
What does respond the same with every individual is cause and effect. When people make more responsible choices with their finances, they have less financial troubles. It's amazing how that works for everyone, all of the time.
I do believe in the supernatural law of attraction. We receive what we attract. Some call it "God's favor." I've seen it work in the lives of atheists so I know it's not something you have to believe in God for. We don't attract just what we want to attract on a conscious level. Our subconscious is like a magnet that reveals what's deep within us. We attract what we are, not always just what we want.
The reason I believe this article so important for us today is many people are trapped by the belief that if they sow the "bad decision" of leaving their church, then their lives will reap destruction. This is such a big deal that people vote for political figures based on whether or not that person is a blind supporter of Israel or not, all because their religion has convinced them that God blessed those who bless Israel and curses those that don't support it. Again, it boils down to fear.
"God is not blessing or cursing anyone based on his or her religion."
Good things aren't happening to you because you're a Christian, and bad things aren't happening to someone else because they have a different faith or no faith at all. Life happens to us all. Situations present themselves to us all, and we can choose to use them in any way we want. We can learn and grow from hard situations or we can be handicapped by them. It's cause and effect. Much of the time, bad things happen to us because we made a bad decision or are experiencing the results of the bad decision of someone else. It's not karma, it's not God, it's simply the way things are.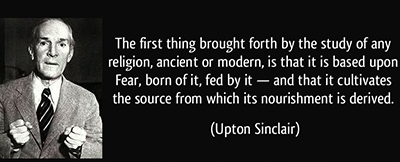 The final thought I'd like you to consider comes from the Bible. 1 John 4:18 suggest, "There is no fear in love. But perfect love drives out fear, because fear has to do with punishment. The one who fears is not made perfect in love." If that is true, and I believe it is, then a fear-based religion is not from God. I would go as far as to say fear-based religion is devoid of God.
So, the questions remain: What do you believe? How do those beliefs add to or subtract from the quality of your life?