Let's talk about life
There's a lot going on with us here at Freedom Life Grace Church. We can't fit everything into a service or Bible Study so we have made this blog available to you as a resource, inspiration, and amusement.
Enjoy! Share! Repeat!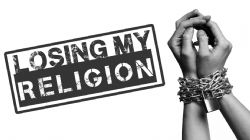 Will Rucker • Outreach
One of the most self-serving misconceptions that religion has promoted is the notion that "God needs ME to reach others for Him." Central to almost every religion I have studied is the idea that God wants His followers to convert others to that brand of faith. We can all agree that Pepsi and Coke are basically the same thing, just different flavors, but when it comes to religion, my flavor is the only truth.
Understand that there is a difference between sharing God with others out of a personal desire for them to experience the good things you enjoy and being forced to make people know your God.